360-degree Camera - Camera Type
Panasonic offers the 360-degree Cameras.
You can find the camera which you are interested from Panasonic 360-degree Cameras in this page.
What's 360-degree Camera?
The 360-degree Camera can capture images around the camera lens in all directions.
Available modes include Fisheye,Double Panorama,Panoram,Quad PTZ,and 4 Stream,and the camera can output video images based on the selected video mode for reduced loads on the viewing IP camera/CCTV system.
9M(3Kx3K) high-resolution performance
9M (3K × 3K) high-resolution performance enables sharp rendering of objects and people's faces at the edge sections of the fisheye(360-degree) image.
High sensitivity with built-in IR LED *WV-S4550L/S4550LM
Enables to visible objects by new i-PRO extreme camera with built-in IR light even 0 lux of dark condition.
Super Wide dynamic Range 108dB
EXTREME Compression *WV-S4550L/S4550LM
New 9Mega 360-degree camera is combining H.265/Video Compression with Panasonic Smart Coding Technology reduces bandwidth by maximum 95%* of conventional H.264/Video Compression. This security system maintains the quality of moving images while
reducing bandwidth
and
storage costs.
* Value in Advanced mode. It depends on the scene.
Reference:
Smart Coding technology
Achieves high endurance under extreme condition *WV-S4550L/S4550LM
Anti-humidity
The built-in electrical dehumidification keeps the camera dry inside, using electrolysis to remove any moisture from the camera. This anti-humidity technology is safe and green due to low power consumption and no heaters or mechanical fans being used.
Salt (Corrosion)-resistant screw (All the screws of the outer)
Prevention from fixation at maintenance.
Complete with powerful intelligent functions
- Heat mapping
This provides visualization of the traffic patterns by people and how long they stay in one place. For example, you can place products based on how people tend to flow within the store and arrange objects so that they do not interfere with the movement of people.
- People Counting
This counts the number of people passing through a selected preset location.
The People Counting function can provide statistics on the number of people entering and leaving a specific zone and other useful data.
- MOR(Moving Object Removal)
Enables monitoring of changes only to the surrounding environment by removing people and other moving objects from the video. This function can be used with camera images for confirming how products placed in a salesroom are selling while also respecting the privacy of customers in store surveillance.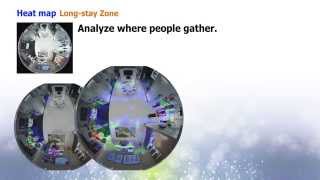 1-13 of 13
in 360-degree Camera
360-degree Network Camera
360-degree Camera │ Indoor │ 2MP - 3MP (1,080p / 2,048 x 1,536)
1-13 of 13
in 360-degree Camera
Narrow down by conditions
Product category
Product category
Functions
Functions
Camera Type
Camera Type
Standard
Standard
Resolution
Resolution